Scrubby scale - (1 to 10 - soft to aggressive) 4 

Sometimes life is like steering a wooden ship through dangerous waters. Don't be so absorbed with survival that you miss the sparkle of sunlight on waves, the caress of the wind in your hair, and the exhilaration of being inside an adventure. Otherwise, living is just postponing the inevitable.
Dangerous Waters is a swirled soap with veins of finely ground vanilla specks for a mild scrubby effect.  The scent is created with cedar, five origin sandalwood, cardamom, and ylang-ylang essential oils.

Ingredients:

Olive oil, organic sustainable palm oil, distilled water, coconut oil, food grade sodium hydroxide (lye), avocado oil, castor oil, kaolin white clay, cedarwood essential oil, five origin sandalwood, vanilla bean specks, cardamom essential oil, ylang-ylang essential oil, patchouli essential oil, mineral pigments (charcoal, oxides and micas) NET WT. 4.0 oz (113g)  Most bars will weigh close to 4.8 oz.  We list 4.0 oz. as a minimum.
Production Photos: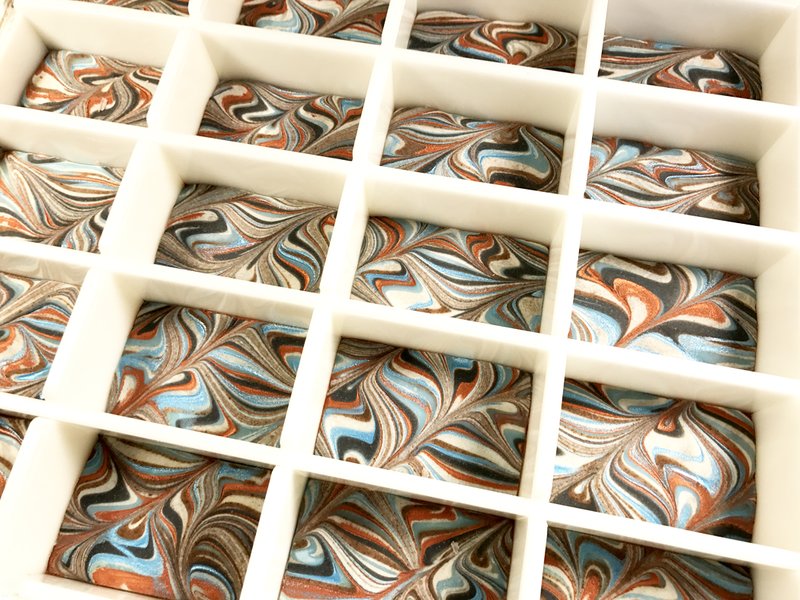 Soap is waiting to firm up a bit before removing the mold.